Since 2014
Providing Educational opportunities to underprivileged children and women
in Mto wa Mbu, Tanzania.
It all started with an idea in the minds of founders Seif Sakate and Catherine Ryan- to build a kindergarten in Seif's hometown of Mto wa Mbu, Tanzania.
However, with the support of the local Port Fairy community, this plan quickly changed and it was decided to build an entire primary school instead!
Women's Project Participants
our location
Mto wa Mbu, Tanzania
[ translates to 'River of Mosquitoes' ]
You can find us in Mto wa Mbu, Tanzania. This small town is on the main tourist road from the regional city of Arusha to the famous Serengeti National Park and other game reserves.
Located at the bottom of the Rift Valley, this is a farming area due to the availability of irrigation water. It adjoins Lake Manyara National Park – in fact, animals from the park sometimes stray into the village.
Surrounding it are rangelands, largely occupied by Maasai tribespeople who, in addition to having numerous permanent settlements dotted around the plains, graze their herds and flocks nomadically, chasing the grass wherever it grows.
"Bandari" is a Swahili word meaning "port" and was chosen to reflect its connection to the town of Port Fairy where the project was initiated.
Where it all began
Our Journey
Seif took the first group of volunteers from Victoria, Australia over to Mto wa Mbu in 2015, where they started work on building the kindergarten. In July 2016  the first group of 20 students started kindergarten with the Bandari Project.
Another group of 20 students started in 2017, and with the help of volunteers from Australia, they have built classrooms, a playground, a fish farm, a chicken house, a cow shelter, 2 greenhouses and have fenced the property.
Bandari currently have over 100 students, 7 teaching staff and 8 other staff, 5 women participating in the sewing project, 6 cows, lots of fish, lots of chickens, and a few ducks.
The school continues to grow and expand every year, welcoming another group of students each year until we reach capacity of approximately 160 students.  There is never a dull moment at Bandari!
| 2015 | Starting from Scratch- Building our kindergarten
It all started when Seif took the first group of volunteers from Victoria, Australia, over to Mto wa Mbu, Tanzania in 2015. This first group started work building the kindergarten.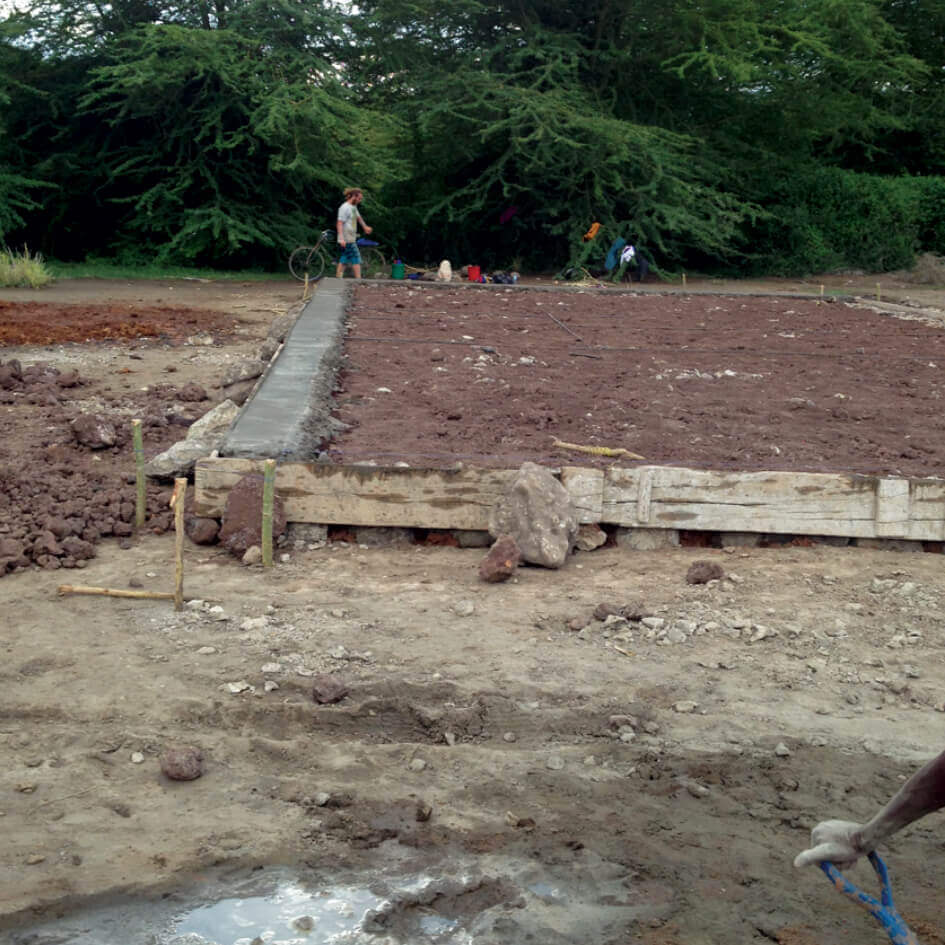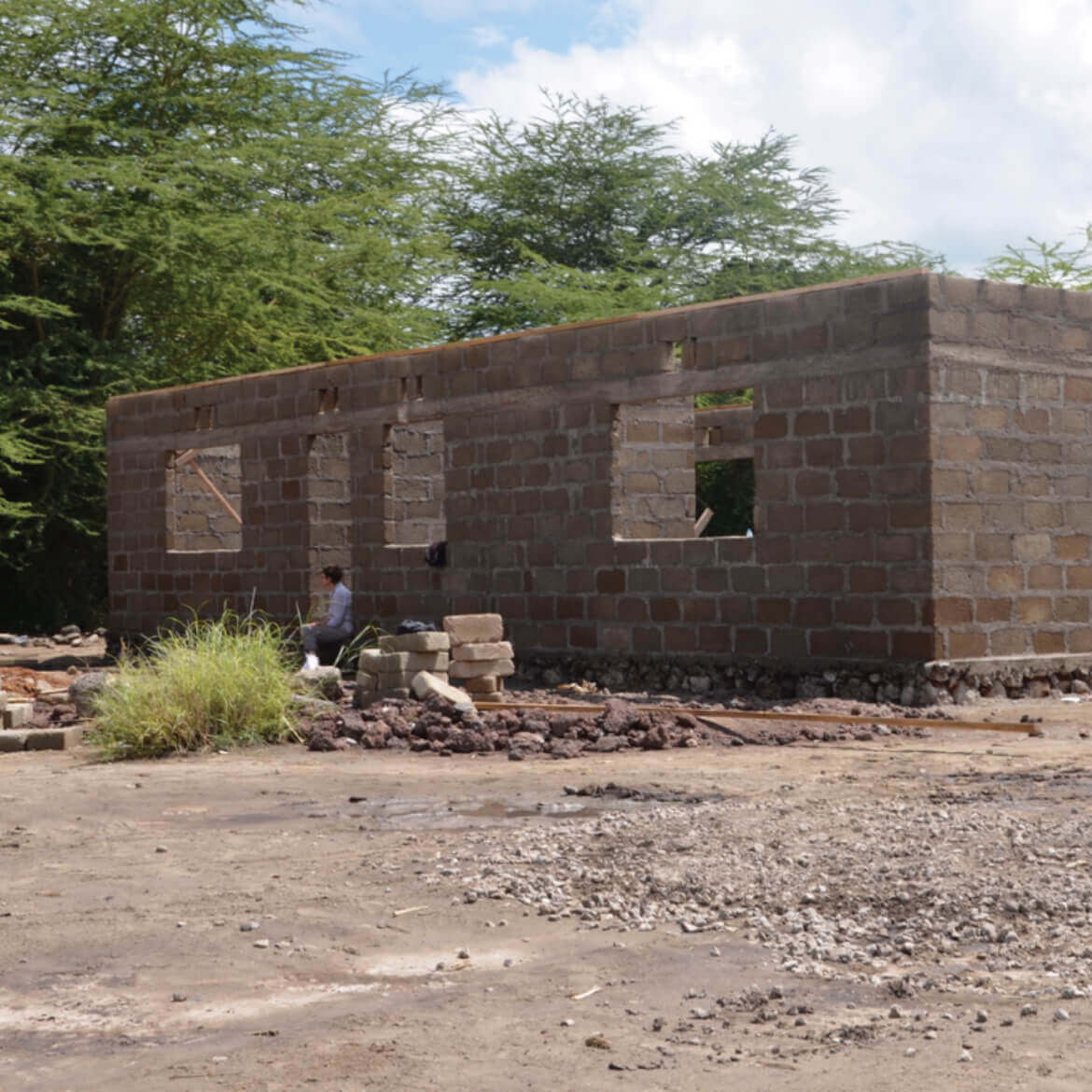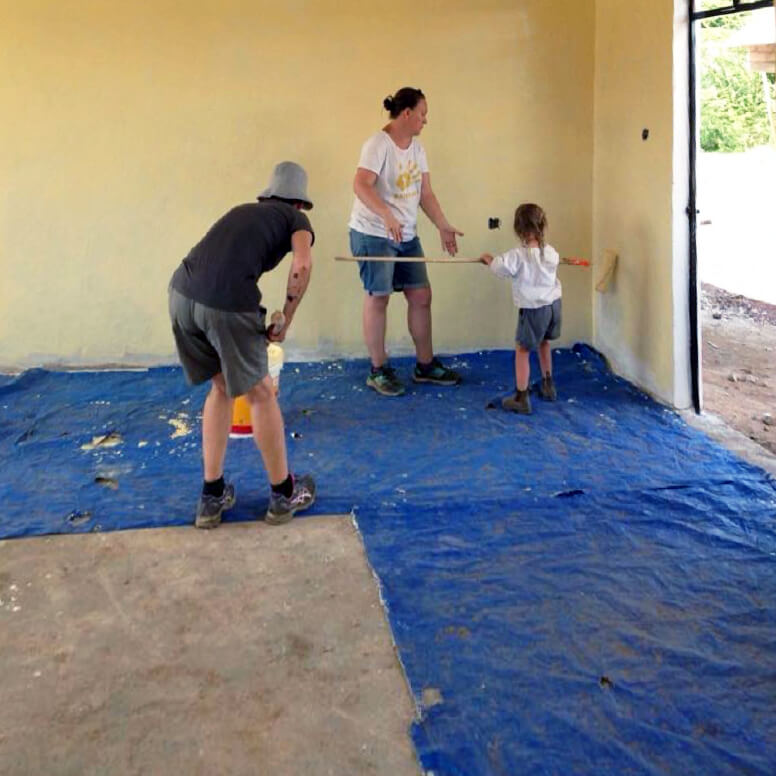 | 2016 | Getting ready for our first students
With the help of volunteers from Australia, we were able to get our kindergarten ready to welcome our first group of 20 students in July.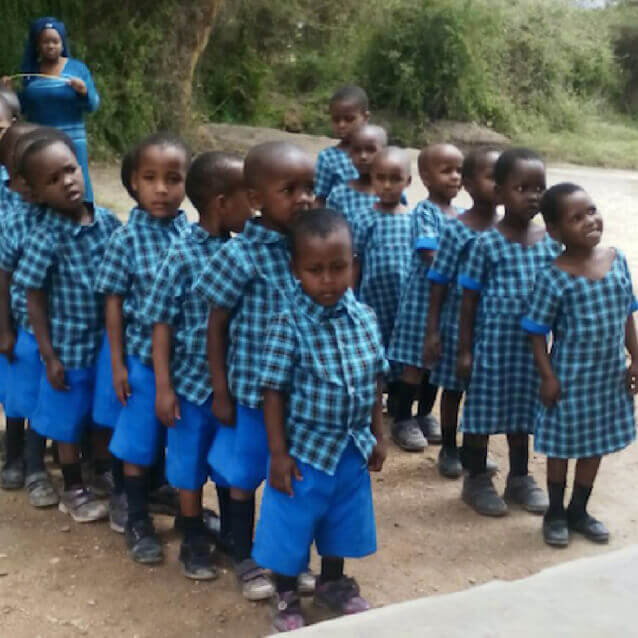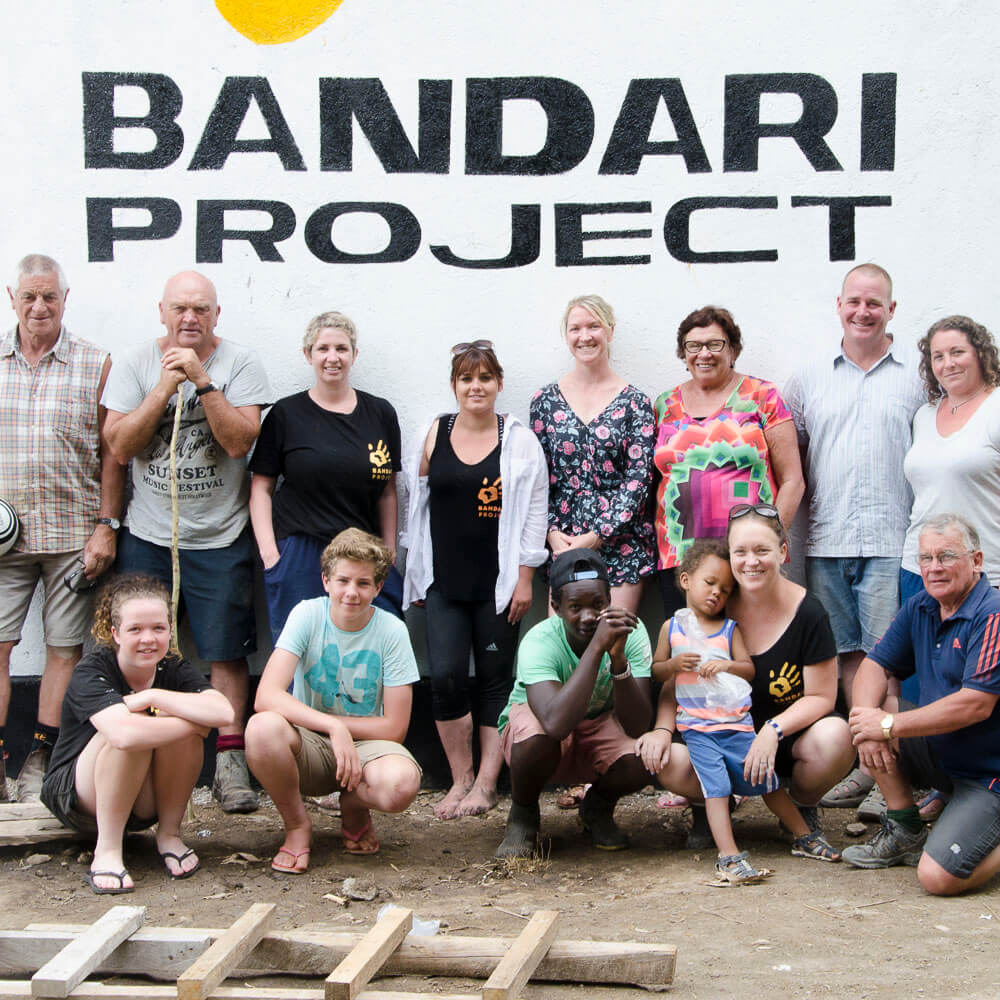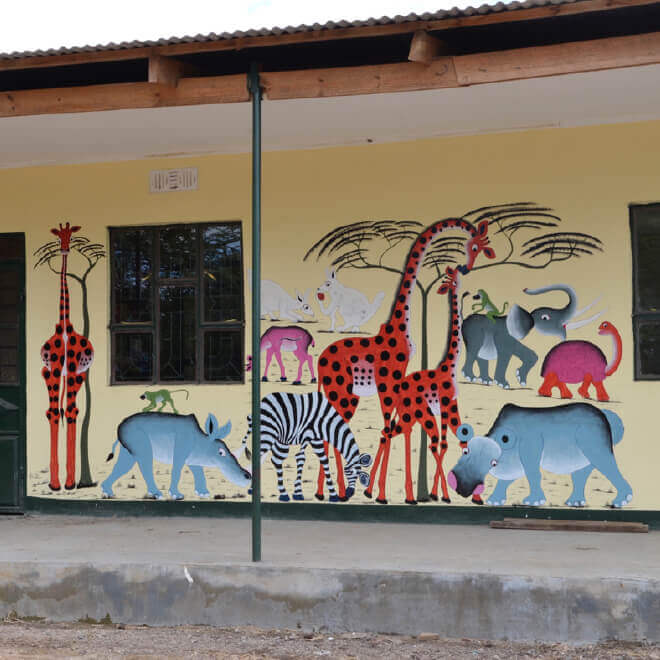 | 2017 | Building and Expanding
We welcomed our second class of 20 students and the students were thrilled with the playground our volunteers built. We also built two green houses and started our Women's sewing project, which aims to support marginalised women.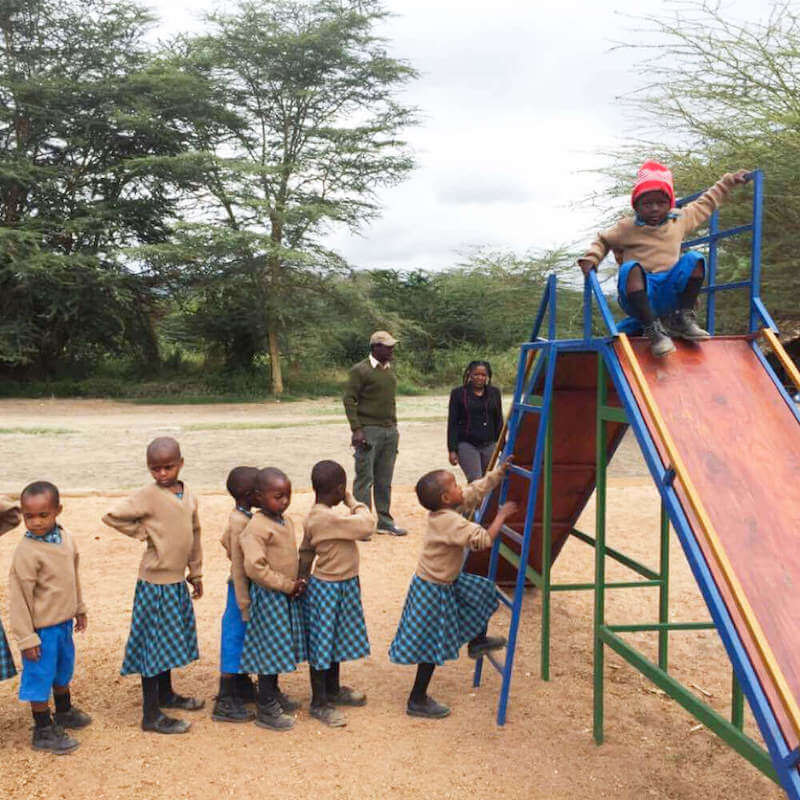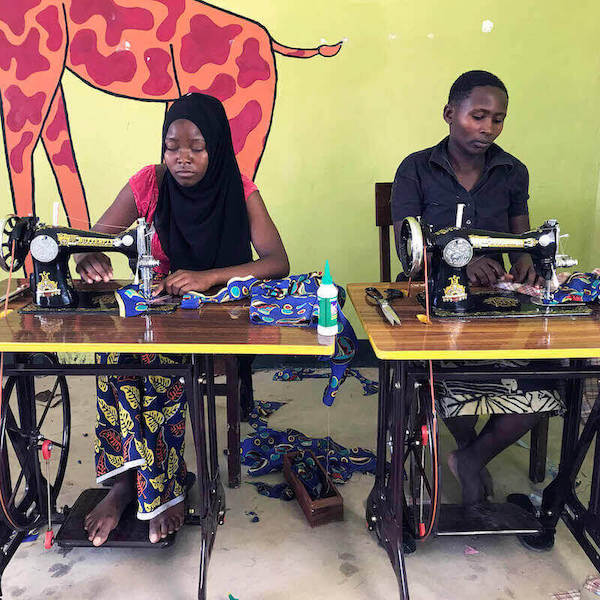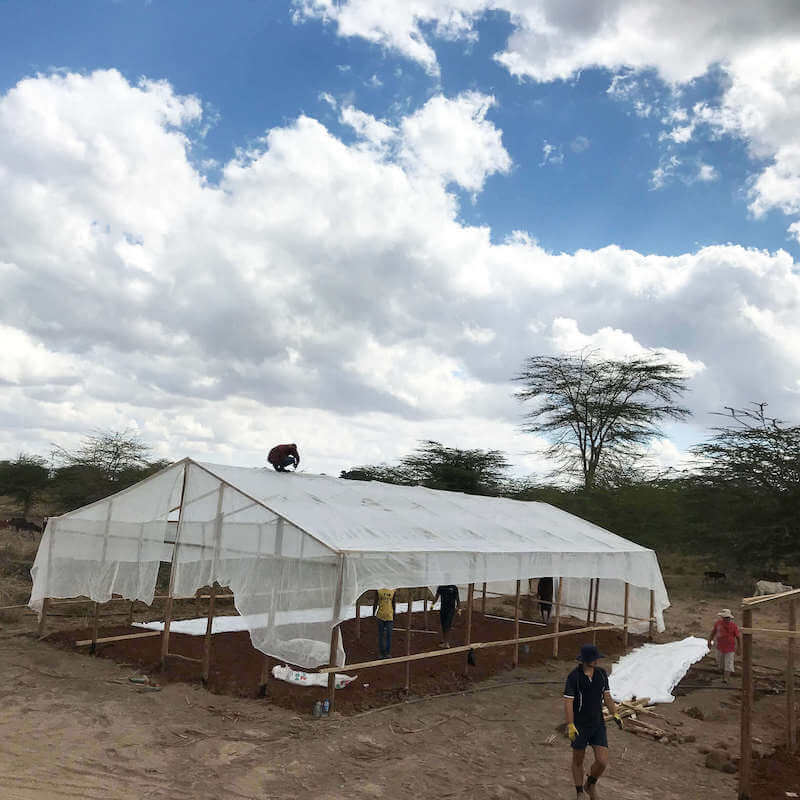 | 2018 | Building and Expanding
In 2018 we welcomed the arrival of our 2 cows – Ozzie and Flossie.
Our 2018 volunteers arrived in April, they painted our new classroom, mentored our teachers and much more. We now have classrooms, a playground, a fish farm, a chicken house, a cow shelter, 2 greenhouses and our property fenced!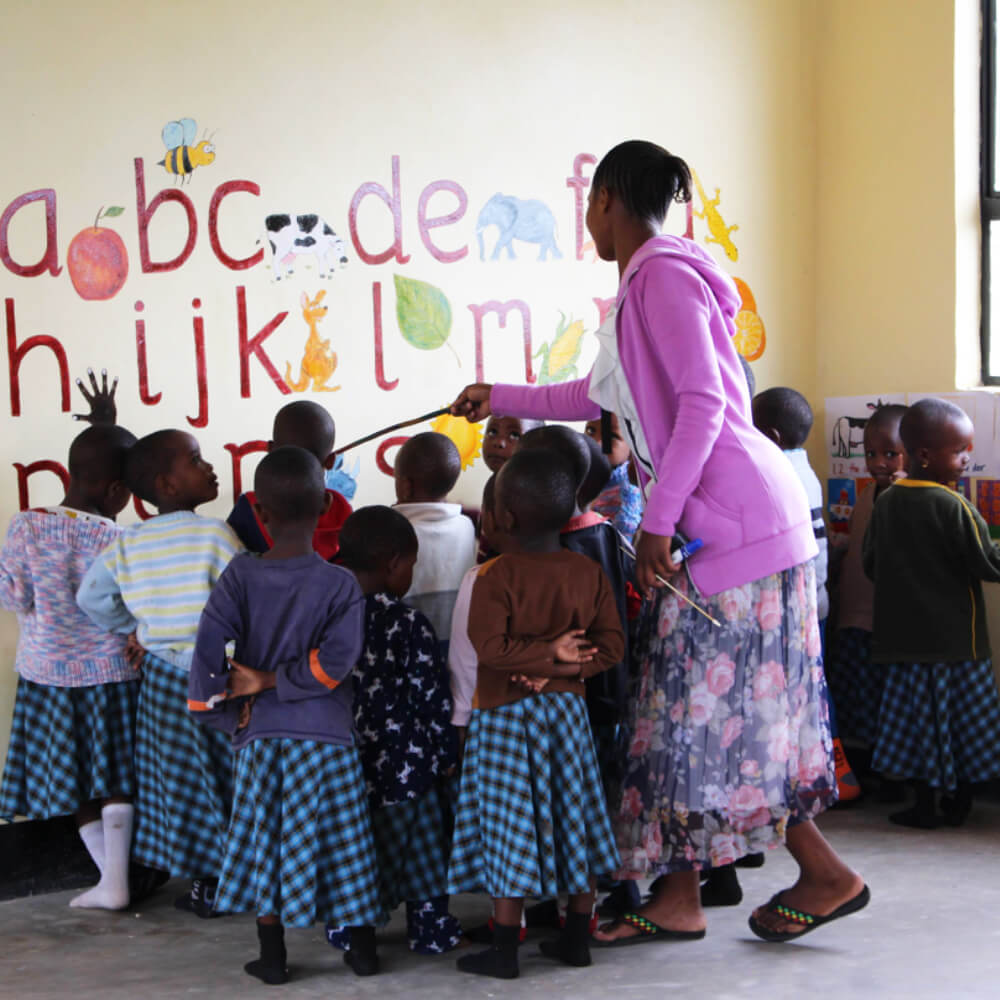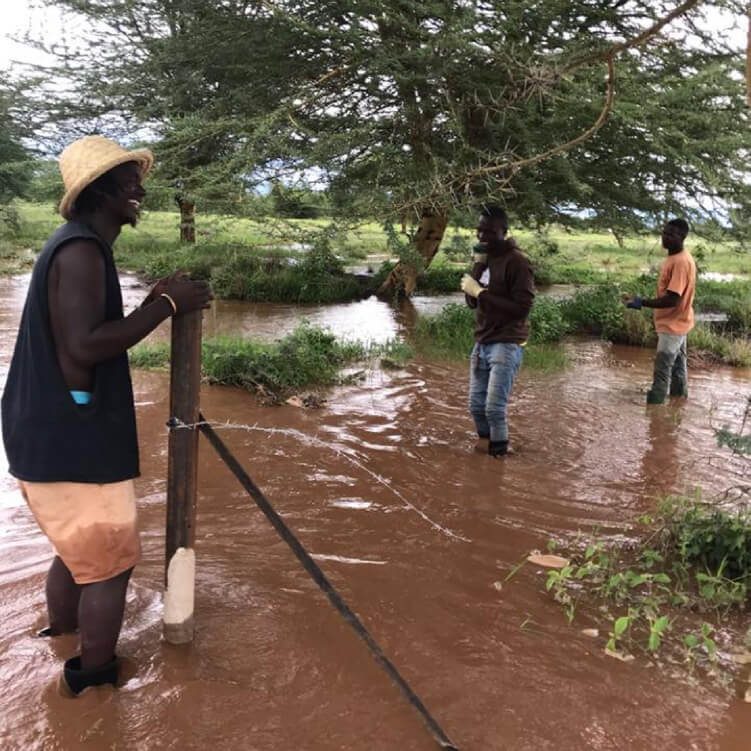 | 2019 | A busy year
2019 was a busy year that saw another 20 students join the school.  At the beginning of the year we saw the construction of our first proper playground and in April we had another volunteer group from Australia come to visit.
We bought a bus, and started construction of our most ambitious project, our dining hall and kitchen.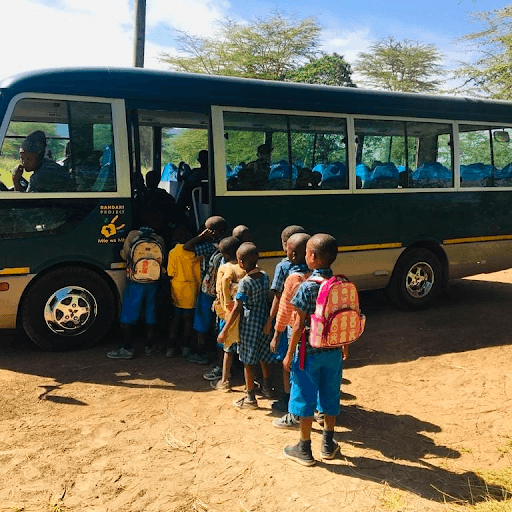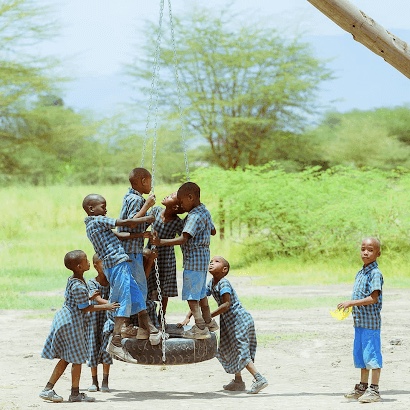 | 2020 | A challenging Year
This year presented challenges like no other.  COVID19 saw the closure of our school for 3 months.  During this time we provided food and sanitation packs to our families and our regular programs were put on hold.  Once the school reopened, our sewing ladies did a great job sewing masks for everyone, and our students quickly got used to the new hygiene protocols.  Sadly, we had to cancel our group of volunteers that was due to visit.  We hope to reschedule this soon.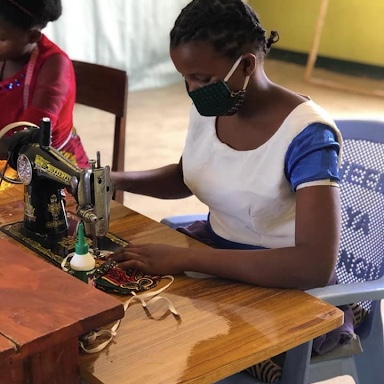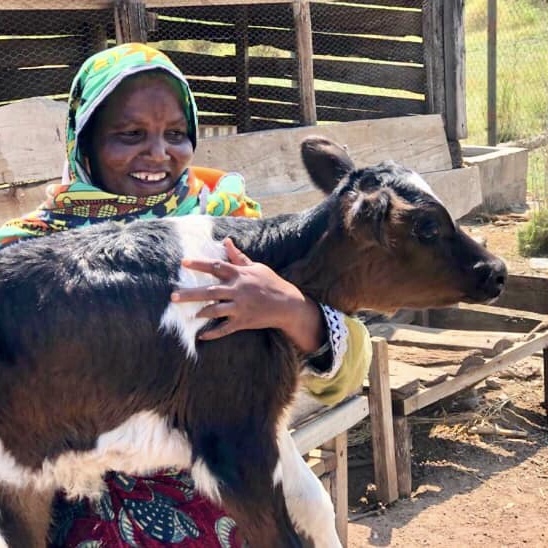 | 2021 | Our most ambitious building
This year we built our biggest and most ambitious building yet- our new dining hall and kitchen! It was funded by a very generous Bandari supporter and will seat all students when the school reaches capacity (approx. 160 students). It will also be a valuable resource for the local community, who will be able to use it for village meetings, celebrations , weddings and more!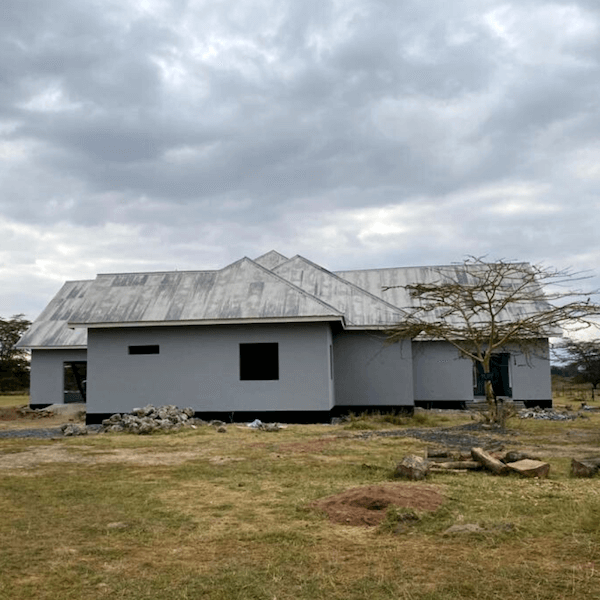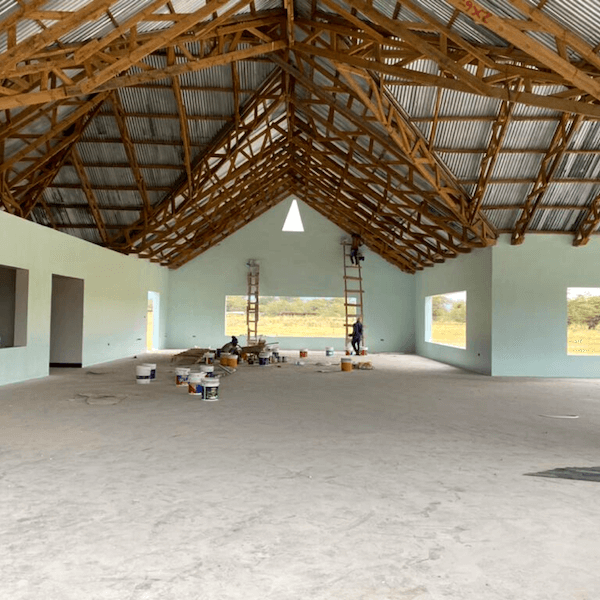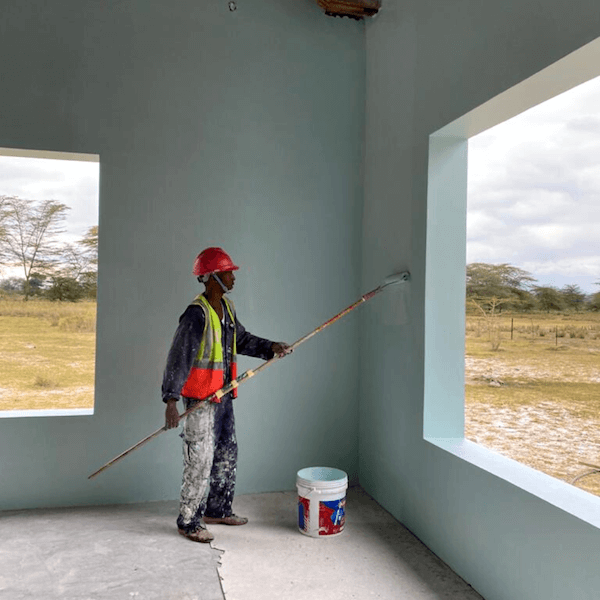 | 2022 | our school is growing & changing
In 2022 we saw a lot of growth and change at our school. As we do each year, we grew by another class and our kindergarteners settled right in. We also fit out the kitchen in our new dining hall and constructed new pathways around the school. During the rainy season, the walkways around our school would turn into a muddy mess, making it hard for students to get between classrooms, BUT thanks to a lot of hard work, this will no longer be a problem.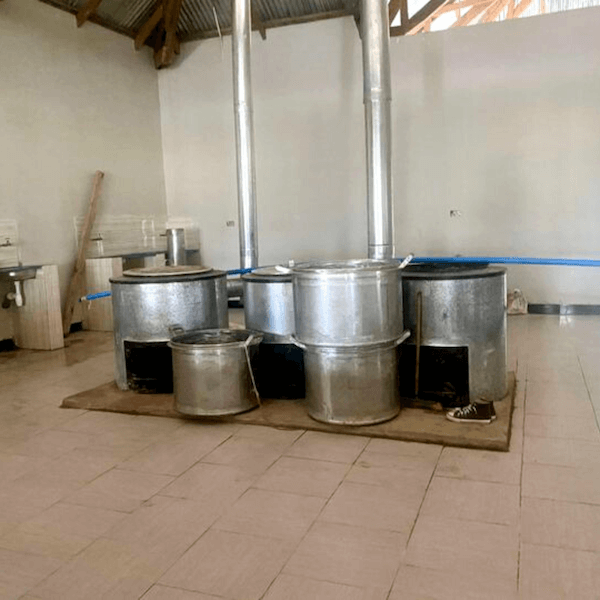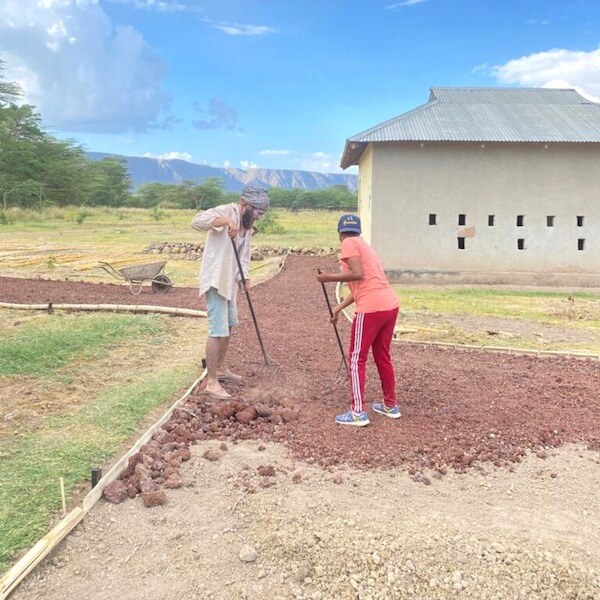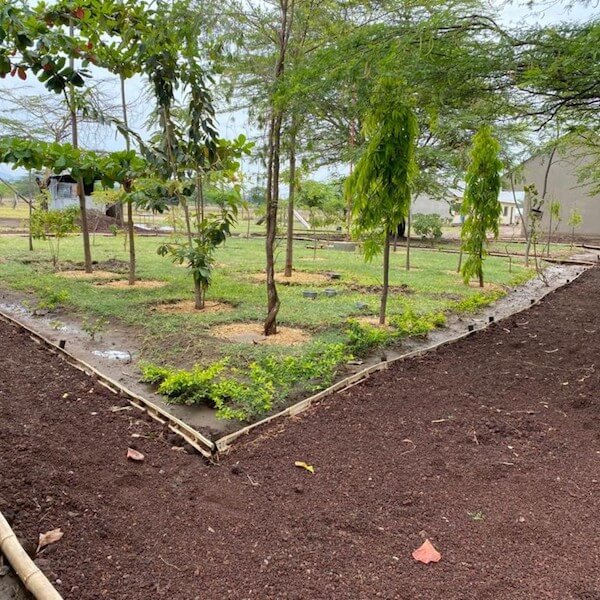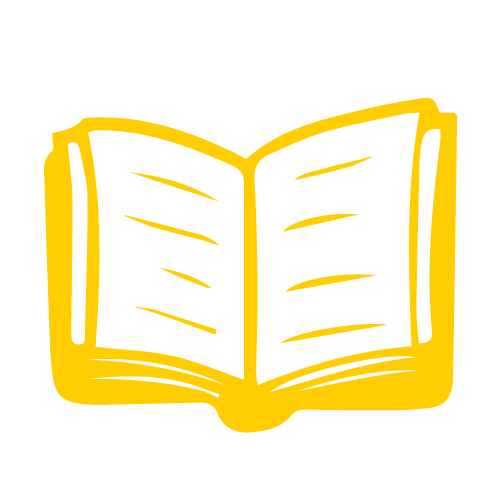 sponsor a child
Give the gift of a brighter future and in a small way, make a big impact.
Make a Donation
Support the ongoing running costs of our project.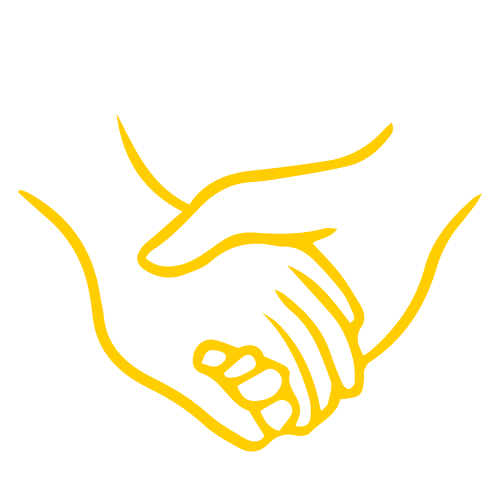 Support a project
Volunteer, help spread the word,  or fundraise.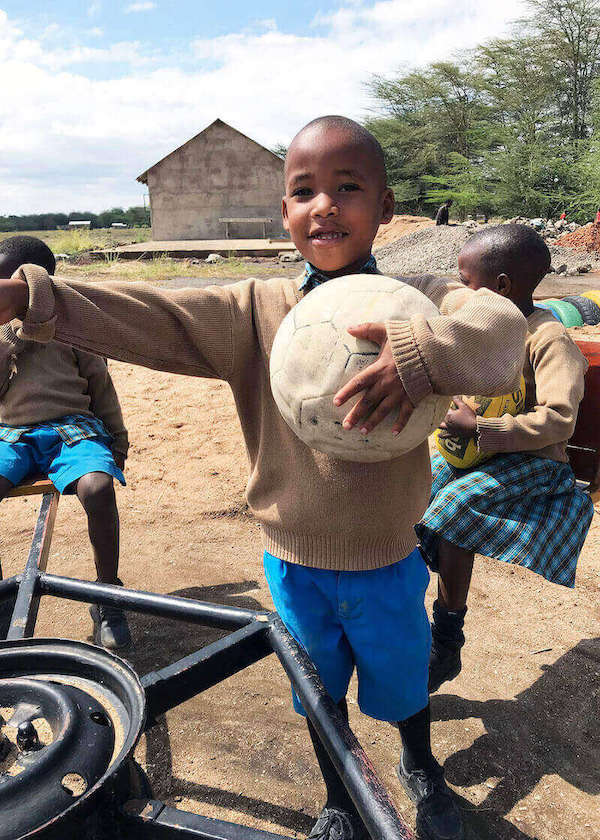 Give the gift of an Education
Our Educational Philosophy
Optimise teaching effectiveness and outomes
Class sizes are restricted to 20 per year level to maximise interaction, optimise teaching effectiveness and outcomes. This is in contrast to class sizes of over 100 students in local state schools.
Encourage reasoning, problem solving and inquiring minds
Our teaching style incorporates as many elements of Australian teaching methods as possible, while still following the Tanzanian curriculum.
We steer away from rote learning and encourage reasoning, problem solving and an inquiring mind. Our classrooms are bright and engaging.
Teach English language skills
English language is taught from Prep level, at the Bandari Project, in contrast to state schools where only Swahili is used in primary levels and then English in secondary schools (for those that make it). We believe that English language skills enhance future employment and business opportunities for our students.
For less than the cost of a latte a day you can change a child's life!
Project Governance, Staff and Volunteers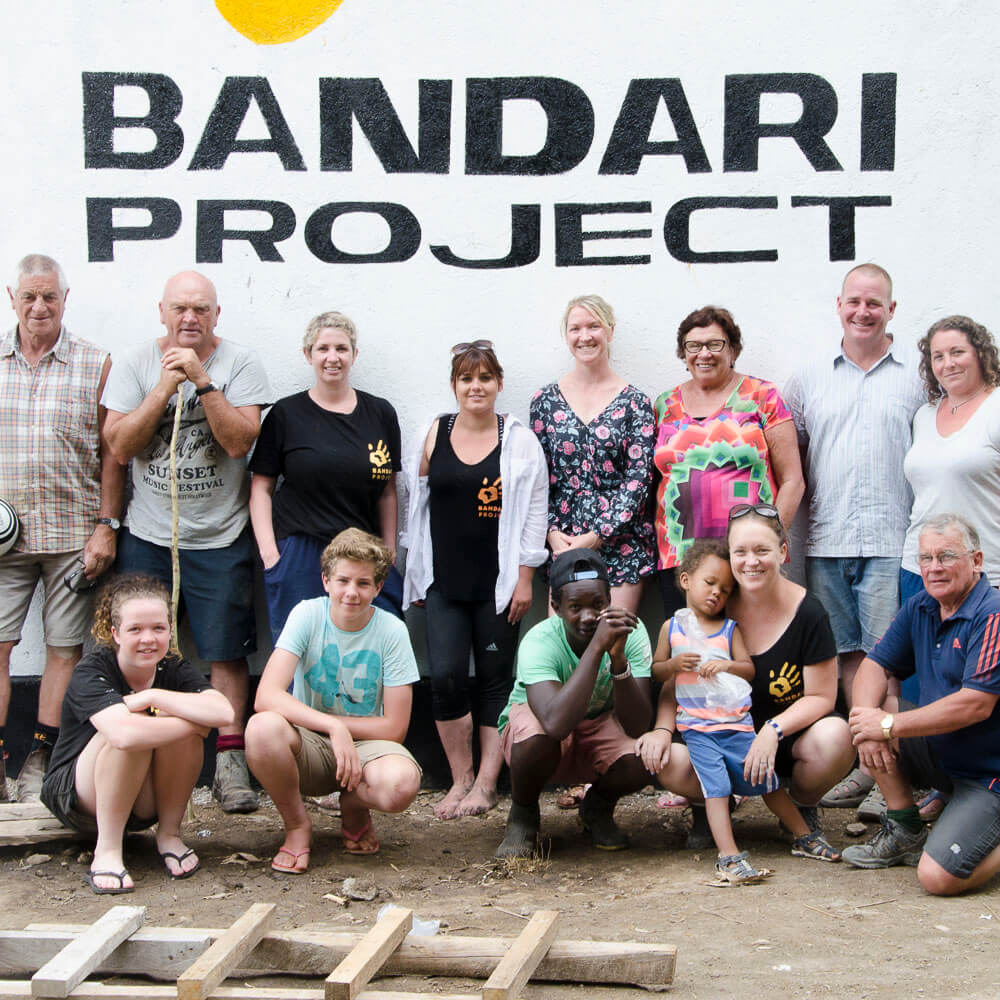 The Bandari Project is directed in Australia by a board consisting of members of the Port Fairy and Warrnambool communities.
Board membership is entirely voluntary and they meet monthly to develop and implement its project strategy, and to plan and conduct fund-raising events. The board has developed and is refining a medium term strategic plan.
Delivery in Tanzania is overseen by our dynamic project manager, Glory, together with her assistant Hawa. We have four teachers - James, Zawadi, Fred and Deborah, and a sewing instructor who works with the women's skill development project.
Several other staff are employed to run the farm enterprises, maintain the facilities and to provide security after hours.
Volunteers are encouraged to contribute to the project on the ground in Tanzania and from home.
Annual group volunteering trips are organised, incorporating working at Bandari with some tourism. Individual volunteers are also welcome to visit Mto wa Mbu and contribute to the project according to their specific skills and availability. There is always something to do, and our volunteers find great rewards in helping!